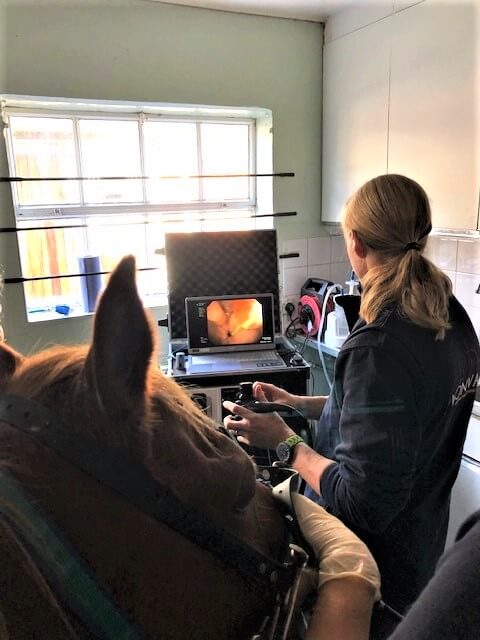 An equine gastroscope is used to look inside a horse's stomach. A gastroscope allows a vet to check for ulcers, which can cause pain and discomfort to horses. Horses suffering with gastric ulcers can become difficult to ride and handle, so it's always important to contact your vet if you are concerned. This blog article outlines the symptoms of ulcers in horses, as well as what happens during an equine gastroscope.
Symptoms of Ulcers in Horses
Horses with gastric ulcers can present with a number of different symptoms including:
Poor performance – reluctance to go forward, bucking/rearing when pressured
Changes in behaviour – grumpy, aggressive
Reactive when being girthed or groomed around stomach
Poor appetite
Losing condition despite adequate feeding
Kicking out when eating
Gastroscopy is the only definitive way to diagnose gastric ulcers in horses – if you are concerned that your horse may have gastric ulcers, please call the practice and a vet can discuss your horse's symptoms.
What Happens During An Equine Gastroscope?
Horses need to be starved for around 12 hours before their gastroscope to ensure their stomach is sufficiently empty for the wall to be visualised. This can be done here in the clinic or in your own stables. We also place a muzzle on the horse as when bored and hungry, many horses will resort to eating their bedding.
We sedate all horses for gastroscopy as this helps make it a calmer experience for the horse. A dental gag is placed on the horse and opened slightly as this helps to prevent the horse biting on the gastroscope if it flexes back into their mouth. The gastroscope is passed up one nostril to the larynx and the entrance of the oesophagus, where the horse will need to swallow the scope for it to pass into the oesophagus. Some horses find this stage slightly unpleasant, but once the scope is down into their stomach most horses remain settled for the rest of the procedure.
A gastroscope is essentially a long, flexible tube with a camera on the end, which can also blow and suck air and water into and out of the stomach. The scope is over 3m long and the end portion can be steered to help with examining the entire stomach. Once in, we are able to visualise all around the stomach wall and down to the pylorus (exit point of the stomach).
Avonvale Equine Vet Practice Gastroscope Clinic
Our next gastroscopy clinic will be run on Wednesday 29th June 2022 at the discounted rate of £120 including VAT and sedation. This clinic is open to new and existing clients.
To book a slot on our next gastroscopy clinic, please call our reception team on 01295 670 501. You will need to pay at the time to secure your slot. We can also perform equine gastroscopes in the clinic and on your yard at a time to suit you.