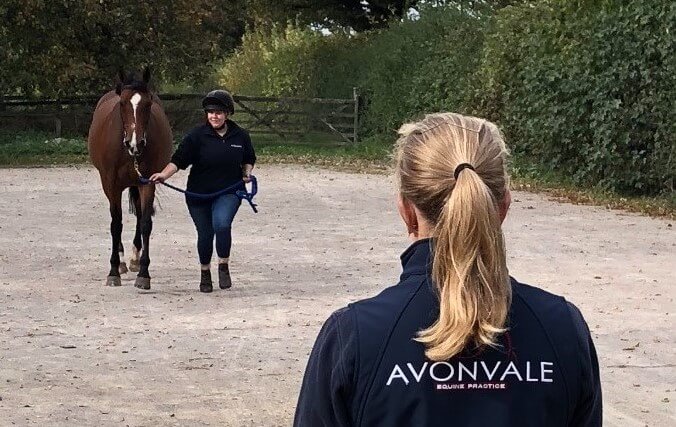 If your horse ever requires a lameness exam or a pre-purchase examination, it's very likely that the vet will want to see the horse trotted up. It's useful to know how to trot up a horse, so you will be comfortable trotting your horse up for the vet.
Why Would a Horse Be Trotted Up?
A trot up is usually used to assess whether a horse is lame. Although it's known as a "trot up", your vet will usually want to see your horse at a walk and a trot. By watching your horse walk and trot in-hand, they will be able to look for any abnormalities in their movement or signs of pain and discomfort.
You will have probably seen the trot up that happens during eventing competitions. This is carried out to ensure that all the horses entered are fit to compete, and it is common to see horses sent to the holding box for further examination after the trot up.
How to Trot up a Horse
Trotting up a horse is a skill that is useful for all horse owners and riders to have. In the event that your horse is lame or for sale, you will probably need to trot him or her up for the vet. The horse will be walked and / or trotted in hand, ideally on a long, flat section of hard standing.
When trotting up horses there are a few key safety aspects to consider. Restraint of the horse, experience, clothing and footwear of the handler and the trot up area are all important.
Ideally horses should have bridles on to facilitate good control from the ground. The handler should be an experienced adult wearing boots, a riding hat and gloves. The trot up area needs to be firm and flat and ideally gated, though often the best firm and flat section on yard is the driveway or lane, making a bridle on the horse essential.
Your horse should be able to move his head freely, which will allow your vet to assess any gait abnormalities or signs of discomfort. Pulling on the lead rope will affect his head carriage and could affect his way of going. Try to move level with your horse's shoulder and away from his side, so your vet has a clear view.
The vet will usually ask for the horse to be walked up and down the trot up before doing any trotting. Viewing the horse at walk and on the turn gives differing information to trotting. Once the horse has walked and trotted up the trot up in a straight line a couple of times, the vet may move onto a flexion test or lunging, depending on the purpose of the examination.
Practicing trotting up will help you to feel more confident and in control. It will also help your horse to understand what is being asked. Teaching your horse to walk and trot on a voice command can also be useful because it means you won't have to pull or tug on the lead rope.
Lameness Exams and Pre-Purchase Examinations
At Avonvale Equine Vet Practice, we provide a number of equine vet services. If your horse is in need of a lameness exam, or perhaps you require a vetting for a prospective purchase, contact Avonvale Equine Vet Practice today.