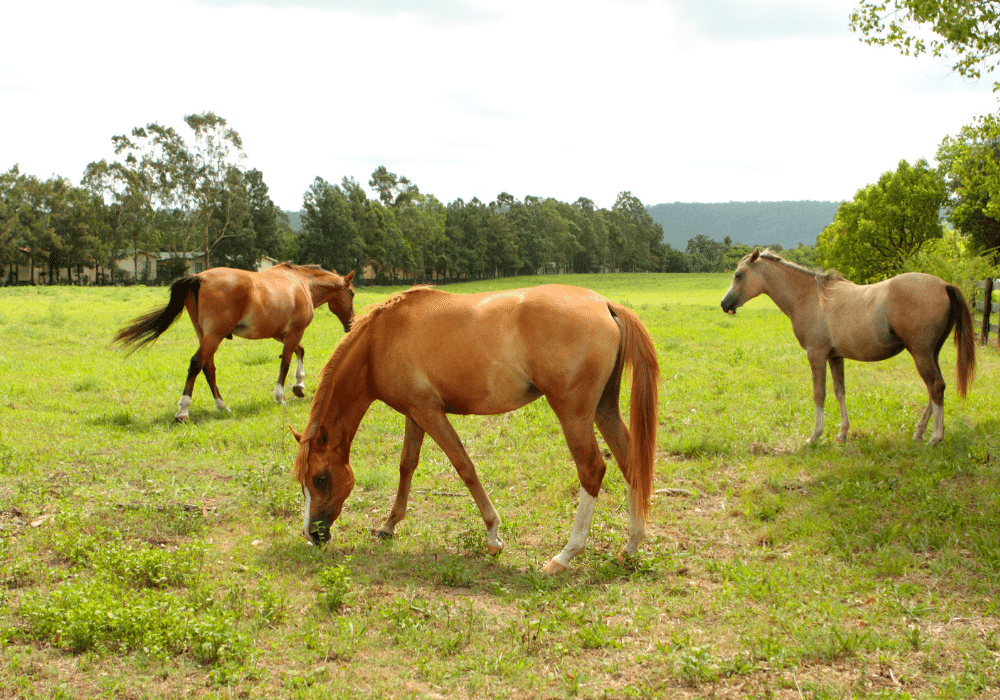 Equine grass sickness is a serious and very often fatal disease that can occur in horses, ponies and donkeys of any breed. Whilst equine grass sickness can occur at any time of year, it is usually seen between April and July, peaking in May. In some years, a second peak is seen in the autumn or winter. The greatest number of cases is found in horses aged between 2 and 7 years old. This blog article outlines what is currently known about equine grass sickness, as well as how to spot and prevent equine grass sickness.
Equine Grass Sickness Causes
Equine grass sickness was first recognised in 1907 following an outbreak near Dundee. It is said that the loss of draught horses in Scotland during the 1920s was so severe that the introduction of tractors was accelerated as a result. Today, Great Britain has the highest incidence of equine grass sickness in the world.
Efforts to understand the causes of equine grass sickness are ongoing, with The Equine Grass Sickness Fund set up specifically to support research into the disease. The cause of grass sickness is still unknown. Currently, the favoured theory is that a bacterium called Clostridium botulinum may be involved. Equine grass sickness does not appear to be contagious and it is likely to involve a toxic substance of some kind.
Symptoms of Equine Grass Sickness
Grass sickness occurs in three main forms: acute, subacute and chronic. There is considerable overlap in the symptoms seen in each form, and it is vital to phone your vet immediately if you suspect that your horse has grass sickness.
Symptoms of equine grass sickness usually relate to paralysis of the digestive tract. The horse may show symptoms such as rolling, pawing at the ground, looking at the flanks, drooling or difficulty swallowing. Other symptoms include the passing of small, hard pellets coated in mucus, muscle tremors and sweating. Rapid and severe weight loss is usually seen in cases of chronic equine grass sickness, as are a reduced appetite and difficulty swallowing.
Although there is no non-invasive test for diagnosing grass sickness in live horses, certain blood tests can be used and considered alongside other symptoms.
Preventing Equine Grass Sickness
There is currently no cure for equine grass sickness, but treatment of some chronic cases is possible under certain conditions. Furthermore, it is difficult to know how to prevent equine grass sickness because we still don't know for sure what causes the disease. The current suggested preventative measures are based on the factors that appear to be associated with grass sickness cases.
Grass sickness is strongly associated with grazing. It is recognised that certain geographic areas, and even specific fields, are associated with grass sickness. Other risk factors include increased numbers of horses in the field, mechanical droppings removal and soil disturbance. Recent stress and being overweight also appear to increase susceptibility to grass sickness.
It is also thought that weather conditions may be partly responsible for grass sickness. Cool, dry weather is thought to be linked to the disease, which may partly explain why equine grass sickness is more common in the eastern areas of Britain.
Based on our current understanding of grass sickness, recommendations for preventing the disease largely revolve around pasture management. Minimising soil disturbance and soil exposure in areas known to be associated with grass sickness may help to prevent further cases, as may co-grazing with ruminants such as sheep.
Seek Advice on Equine Grass Sickness with Avonvale Equine
Ultimately, the best way of preventing equine grass sickness depends on the specific risk factors associated with your yard and your horse. If you are concerned about equine grass sickness, speak to our dedicated equine vets, who will be able to recommend preventative measures. If you suspect that your horse is suffering from equine grass sickness, call our 24 hour emergency line immediately on 01295 670 501.